99% Vanadium Pentoxide
Molecular Formula: V2O5
Molecular Weight: 181.88
Other Names: Vanadium(V) oxide;vanadic anhydride;divanadium pentoxide.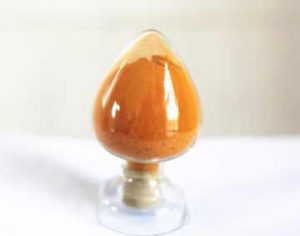 Properties: soluble in strong acid and alkalis,lightly soluble in water, insoluble in ethanol.The shape of the vanadium dioxide is orange, brick red, red and brown crystalline powder or gray black, odorless, odorless, toxic, and its chemical formula is V2O5. Slightly soluble in water, insoluble in ethanol, soluble in strong acid, strong alkali, cooling crystallization into orthogonal black purple acicular crystal crystal system.
 Production: The vanadium pentoxide is formed by thermal decomposition of ammonium metavanadate or vanadium chloride hydrolysis,depending on the different method and conditions, the color of vanadium is also different.
Specification(GB-7315.1-87):
Chemical Composition  %

Form

V2O5

V2O4

Si

Fe

S

P

As

Na2O+K2O

≥

   ≤

98.0

2.5

0.25

0.3

0.03

0.05

0.02

1.0

Powder

99.0

1.5

0.1

0.1

0.01

0.03

0.01

0.7

99.5

1.0

0.08

0.01

0.01

0.01

0.01

0.25

99.7

0.02

0.005

0.008

0.008

0.005

0.1

99.9

0.01

0.002

0.005

0.005

0.001

0.05
Packaging: Powder, 25kg/40kg/50Kg, bags / barrels
Usage: Vanadium pentoxide is a protective agent for amino and hydroxyl componds. It is used in metallurgical industry for the manufacture of metal materials such as vanadium aluminum alloy and vanadium ferroalloy. As an analytical reagent amd catalyst, it can also be used as corrosion inhibitor for decarburization, desulfurization of petrochemical plants in the chemical industry. Pentoxide is also useful for painting glass and ceramics.
Quality Assurance: We contol the manufacturing process from the selection of excellent raw materials to the provision of special testing methods for the finished product. The company has more than 20 years of experience in the production of various chemical products. We export our products to many countries and regions around the world.