99.9% Vanadium Pentoxide
Molecular Formula: V2O5
Molecular Weight: 181.88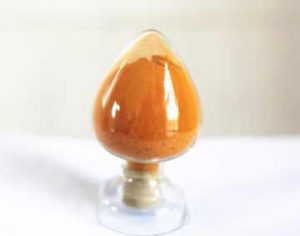 Specification(GB-7315.1-87):                           
Chemical Composition  %

Form

V2O5

V2O4

Si

Fe

S

P

As

Na2O+K2O

≥

   ≤

98.0

2.5

0.25

0.3

0.03

0.05

0.02

1.0

powder

99.0

1.5

0.1

0.1

0.01

0.03

0.01

0.7

99.5

1.0

0.08

0.01

0.01

0.01

0.01

0.25

99.7

0.02

0.005

0.008

0.008

0.005

0.1

99.9

0.01

0.002

0.005

0.005

0.001

0.05
Packaging: Powder, 25kg/40kg/50Kg, bags / barrels
Nature: orange powder with a pale tint. In some cases, it may look like yellow-red crystals.It dissolves quite well in substances such as ethanol, alkalis and acids, but very poorly in an aqueous solution.Vanadium pentoxide can be melted by exposing it to a temperature of 680 degrees, if you increase this value to 1827, the product will begin to boil.
Usage: Catalyst in the production of sulfuric acid, phthalic anhydride, aniline dyes, sulfur oxide; component of special glasses, glazes and phosphors.
Operation Precautions: Make sure that the ventilation is in good condition, otherwise, working manipulations cannot be carried out. With prolonged exposure, acute or chronic intoxication can be caused, conjunctivitis, inflammation of the respiratory tract may occur. In case of poisoning, you should immediately consult a doctor.
Storage: The chemical belongs to toxic products, so it needs to be placed in sealed packaging, usually plastic bags, in warehouses with proper ventilation. The shelf life of the chemical is three years, do not work with it after the expiration date.
Vanadium pentoxide is also used as an oxidation catalyst, in heterogeneous and homogeneous catalytic processes for the production of sulfuric acid from sulfur dioxide, phthalic anhydride from naphthalene or ortho-xylene, maleic anhydride from benzene or n-butane/ butene, adipic acid from cyclohexanol/cyclohexanone, acrylic acid from propane and acetaldehyde from alcohol. Minor amounts are used in the production of oxalic acid from cellulose and of anthraquinone from anthracene. Vanadium pentoxide has not found any significant uses in microelectronics but does have some applications in cathodes in primary and secondary (rechargeable) lithium batteries and in red phosphors for high-pressure mercury lamps and television screens. Vanadium pentoxide is used in the industries of enamelling, electrics and electronics, metallurgy, glass, catalysts, petro chemistry, and paint and ceramics.