Other Names: ammonium vanadate,ammonium trioxovanadate(V).
Molecular Formula: NH4VO3
Molecular Weight: 116.98
Appearence: yellow or white solid crystalline powder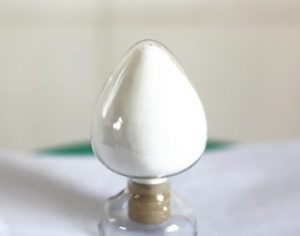 Production: The substance is obtained by chemical synthesis from vanadium oxide and an aqueous solution of ammonia, or by the chemical reaction of ammonium chloride with sodium metavanadate.
Properties: slightly soluble in cold water,but soluble quite well in hot.Non-soluble in ethyl alcohol and diethyl ether.Melts at a temperature of abput 140℃,further heating leads to the complete destruction of the chemical compound with the release of gaseous ammonia.It is easily reacts with acids and alkalis.When heated up to 500℃,ammonium metavanadete interacts with hydrogen. Is a toxic substance.
Ammonium metavanadate Specification:
Chemical Composition %

Form

NH4VO3≥
(on dry basis)

Si

Fe

S

Al

Cl

As

Na2O+K2O

  ≤

98.0

0.2

0.3

0.04

0.1

0.2

0.01

0.3

Powder

99.0

0.1

0.1

0.03

0.05

0.15

0.01

0.2

99.5

0.08

0.08

0.02

0.03

0.10

0.01

0.01
Packaging: Powder, 25kg/40kg/50kg, bag / barrel.
Nature:Ammonium Metavanadate is slightly yellow crystalline powder. Melting point is 200℃. It's slightly soluble and cold water, hot alcohol and ether, soluble in water and dilute ammonium hydroxide. When burnt in the air, it'll be oxidized into vanadium pentoxider ,and it's Toxic!
Ammonium Metavanadate , NH4VO3, is a yellow crystalline solid which is water soluble inorganic acid that acts as insulin mimic. It functions as a catalyst to certain reactions and is known to have toxic effects in certain species. It has been found in slags and fly ash from coal burning which has been known to cause respiratory problems.
Uses: The most popular aplication of ammonium metavanadete is as a catalyst in organic synthesis.In textile industry it is used as a mordant before dyeing cotton fabrics and fixative when dyeing silk with aniline dyes.I use it for printing needs in the manufacture of paints and inks, as well as for obtaining black aniline.
Precautions: Substance is toxic,belongs to the 2nd hazard class.Constantly monitor the amount of dust in the air in the workplace.High concentaration of the reagent can cause poisoning.