Molybdenum sheet is a thin sheet product having a rectangular section profile.The sheets can be made from pure metal or from some ductible alloys obtained by smelting or powder metallurgy.Materials are prepared for processing by hot or cold deformation, followed by rolling to the desired shape and description of the products, depending on the purpose of the application.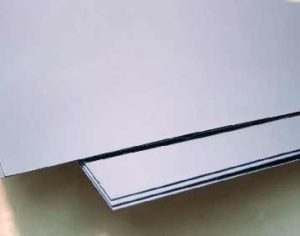 Properties: Enhanced strength and elasticity, extremely low coefficient of thermal expansion, and melting point of 2620 °C; heat resistance; great resistance to corrosion, especially that caused by acids, alkalis, and other corrosive environments; relatively light weight
Uses: It is used for the manufacture of parts than withstand hours of working at 1200-2000° C in corrosive environment. Ships, heating appliance hulls, rocket and airplane hulls, and other structures are all covered with molybdenum sheet as a basic material. In the chemical, food, oil, and gas sectors, it is used to produce storage and transportation containers as well as to release aggresive compounds. Molybdenum sheets are used to make dampers, protective screens with thermal insulation properties, rocket nozzles, and the outer shells of nuclear reactors. Sheets are also used to make reflectors, filters, crucibles, and electrodes in electrical engineering.
We offer 3,000-5,000 kgs Molybdenum Sheet per month and small order is acceptable. To learn more about our Molybdenum Sheet, please see the specifications and features below and contact us today!
Specifications:
Thickness: < 0.15 mm   Max size: 150 x 1000 mm
Thickness: 0.20 mm     Max size: 500 x 1500 mm
Thickness: 0.25 – 0.4 mm    Max size: 610 x 3000 mm
Thickness: 0.5 – 2.0 mm     Max size: 610 x 1500 mm
Thickness: 2.5 – 3.5 mm     Max size: 500 x 1000 mm
Features:
Qualty is meeting for ASTM B386 type 361
Molybdenum purity: 99.95% min
Qualty is meeting for ASTM B386 type 364
Zr: 0.06-0.12%
Ti: 0.40-0.55%
C : 0.010-0.030%
Description

Code

Density g/cm3

Dimensions (mm)

Pure molybdenum plate

BCM

9.9

(0.3-10) x (60-400) x (no less than 800)

High temperature molybdenum plate

BCGHM

9.8
Please also come to our showroom to see more other powder metallurgy products such as Copper Tungsten, Tungsten Alloy, Tungsten Balls, Tungsten Plate, Tungsten Sheet, and other powder metallurgy products. Our know-how will answer to all your needs!