Vanadium Pentoxide 99.7%
Molecular Formula:V2O5
Molecular Weight: 181.88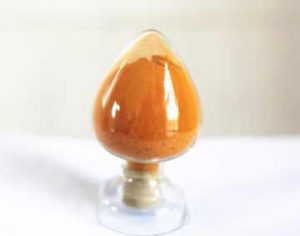 Specification(GB-7315.1-87):                           
Chemical Composition  %

Form

V2O5

V2O4

Si

Fe

S

P

As

Na2O+K2O

≥

   ≤

98.0

2.5

0.25

0.3

0.03

0.05

0.02

1.0

powder

99.0

1.5

0.1

0.1

0.01

0.03

0.01

0.7

99.5

1.0

0.08

0.01

0.01

0.01

0.01

0.25

99.7

0.02

0.005

0.008

0.008

0.005

0.1

99.9

0.01

0.002

0.005

0.005

0.001

0.05
Packaging: Powder, 25kg/40kg/50Kg, bags / barrels
Nature: Orange powder, the relative density is 3.357. It's soluble in acid, alkali, slightly soluble in water, and insoluble in ethanol. Pentoxide vapor is toxic!
Usage: Vanadium Pentoxide 99.7% is used for producing alloy steel of ferro and vanadium, alloy of aluminium and vanadium and other alloy. It is used for removing carbon and removing sulfur and as catalyst in synthetizing ammonia. It is staining material in dye printing and ceramic. It is main material in producing catalyst for sulfuric acid. It is corrosion inhibitor for equipment antisepsising in petroleum and chemical device. It is material of producing vanadide.
As we all known,Vanadium Pentoxide can be used in many ways. For example, it can be used to induce color centers in corundum to create simulated alexandrite jewelry, although alexandrite in nature is a chrysoberyl.
Vanadium pentoxide V2O5 99.7% is orange powder that the relative density is 3.357.
It is one of the component in the production of special glass. Vanadium Pentoxide is included in various glazes and red glow phosphors. It is frequently used as a positive electrode in lithium batteries and accumulators; In some cases, it is used to stimulate the color center of the corud, which is performed to reproduce alexandrite; It serves as a catalyst for the production of sulfuric acid in chemical industry.
If you want to know more about Vanadium pentoxide 99.7% and other similar products, you can feel free to visit our company Bouling Chemical Co., Limited. It was established in 1988 and it is a national advanced and new technical enterprise. For years, it has developed into a new hightech enterprise.
At present, there are the latest production arts of the ferrovanadium, and the creative technology, the management and technologists with rich experience as well as a large number of customers with more than 20 or 30 years experienceand the new developed market.
We offer vanadium pentoxide at an affordable price. We also recommend you other high quality chemicals from our wide range.